I have seen several experiments carried out where vegetable beds clean grey water. I was curious to see if I could imagestream a good way of doing this so I could experiment myself on the Eco-unit. <more links>
I felt I needed clues as to how I could move forward. I tried to frame my quest as "I want to see somewhere that uses grey water recycling – where each house has its own set-up. Let me see how they do it, and to get some good ideas for my experiments. I want to see the equipment and how it all fits together"
My stream started off in a large, high, glass dome that seemed to be a shopping mall or airport. A set of benches in the middle formed a square around some ornamental plants. I sat on a bench and looked over at some lifts shaped like large concrete tubes. Walking over to these lifts, I saw one with a yellow button on it saying "grey water recycling".
I got into the lift, and noticed I was being followed by a very shy facilitator.
"The other one is on holiday," he said.
The lift turned on its side so I had to strap myself into a seat. Safely strapped in I felt it turn horizontally and we sped off, stopping at a large greenhouse.
Inside, this greenhouse felt like an exhibition hall. I had come to some kind of ideal garden exhibition. I saw a sink, some vegetables, some beans –  I wandered around it and  saw a large transparent tank, round, holding maybe 50 litres. It's a demo, with grey water in it and a load of see-through pipes to demonstrate its workings, this with the right waterproofing in the pipes which were really necessary.
The pipe fed grey water onto a series of what looked like window boxes arranged in steps, about 1,3 meters high and the same wide. The grey water ran through the boxes down to the bottom where it collects into a pond with a water feature. The water is pumped back up again and circulates around.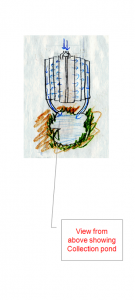 Each of the boxes contains soil, then some Leca balls then a mesh to hold it above the run-off channels in the bottom of the boxes. The boxes have holes in the bottom to drain into the next layer. The boxes are about 25cm deep and maybe 90 cm wide made of plastic or cast in concrete.
When casting, you can  use bits of plastic foam to keep the holes open. I get the feeling you can build these steps up inside of brick or stones and soil. If they are compact, the whole structure absorbs heat during the summer and releases it during the colder season, thus prolonging the growing period of the plants. Kept in a greenhouse, the structure makes the seasons even longer.
I look around for alternatives – or are these step-like constructions the only ones they use? I see you can make pyramid shapes, put them in squares or get creative against walls.
I find a flat alternative; the water just comes under a flat growing bed that is a couple of meters long and about 60 cm deep. It is made in concrete the same way, with the soil kept away from the run-off channels by nets.
Things that surprised me
I was surprised there was no real wall structure, as the designs I have seen already call for a wall. Maybe it's because you can get more in a step design and that it is lower, making harvesting easier.
I was pleasantly surprised by the idea of casting in concrete. It seem fairly straightforward
Questions for follow-up.
I need to understand how the water not only flows back, but how it is cleaned further for pumping back to the house for use again.
More details on how to cast boxes would be good, and to understand the angles of slopes required.
For an apartment block, a larger version would be interesting it possible.
The dispenser and storage tank had a mechanism I did not really understand. More work needed there.
Things to try now.
I'll try and draw a design for the boxes to be cast in concrete. If it seems to work I'll try it out!