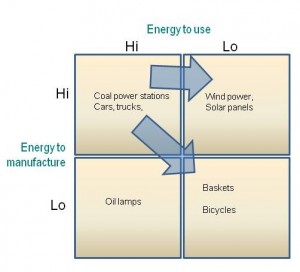 Just released, the latest version of the Swedish Sustainable Economy Foundation's White paper presents in detail how nations can usher in the zero emission, no waste society using a special fee mechanism on raw materials. Download the paper from the Foundation's web site
 People get worried that we should reduce consumerism, as our way of life is driving resource use and emissions. Just reducing will collapse the economy. Instead, the Foundation proposes fees on introduction of raw materials into the economy.  These fees are raised until the consumption and emission of materials ceases. But the money is redirected into  the economy – paid out equally to all taxpayers. This ensures people have money to buy what they need.
The paper is the result of several years' work, including projects with the Nordic Council of Ministers on Carbon fees and fees on phosphorous and nitrogen.
It is essential reading for those working with the transition of society away from the resource-hungry to the equitable, sustainable future many long for. It provides a sound basis for practical approaches to pricing and managing pollution.
The paper, along with other versions and  the short summary can be downloaded here.
The circular economy can be ushered this way: substances that are not biological of origin ( iron, other metals,  mined substances etc) cost to enter the system, and the price is raised until they do not leave it. Biological nutrients circulate too, but enter and leave the economy without burdening recipient or reducing ecological maturity of the source. At the same time, money to enable these transactions circulates freely in the opposite direction.