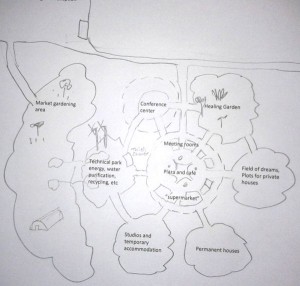 This new design (Click on it to see a larger image) is a first sketch for the assignment to design a village layout for a project in Brazil, a village that will house a conference centre in the middle of six sustainable farms. The centre and village will get its food (and coffee) from the neighbouring farms on subscription, and the farm will produce biogas and biochar, combining the char with the organic leftovers from the gas process will produce a soil enhancement that goes back to the farmers.
The design is based on the idea of radiality, from my book "Inventing for the Sustainable Planet". Radiality is the design approach of living arrangements, villages or even cities, being designed in circular form.
Some things to note:
The technical park houses toilets showers and laundry to separate urine and grey water for use in the market garden. The toilets are between the large meeting place and the central plaza.
We put the parking lot outside the area to make the place car-free, and designed it using the permaculture idea of zones to minimize walking. The areas that people would like to be private are separate from the public areas and to keep noise interference down, farthest from the meeting centre.
The central plaza houses a cafe and restaurant, a place to pick the food up (using the eco- unit concept of food subscription) and a place to hang out. Being in the centre it is  a place for chance meetings and to catch people as they go past.
This is just early stages, but to secure a time-share in the village investments are starting at around 20,000 Euros. Contact me if you are interested in getting in at this early stage!