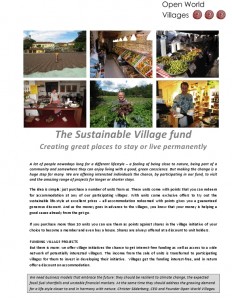 A lot of people nowadays long for a different lifestyle – a feeling of being close to nature, being part of a community and having somewhere they can enjoy living with a good, green conscience. But making the change is a huge step for many. You need time to get to know what you are getting into and a house or apartment in the village needs  financing.

We are offering interested individuals the chance, by participating in our fund, to visit the amazing range of projects for longer or shorter stays. At the same time, we are offering financing for village projects.

The idea is simple: just purchase a number of units from us. These units come with points that you can redeem for accommodation at any of our participating villages. With units come exclusive offers to try out the sustainable life-style at excellent prices – all accommodation redeemed with points gives you a guaranteed generous discount. And as the money goes in advance to the villages, you know that your money is helping a good cause already from the get-go.
If you purchase more than 10 units you can use them as points against shares in the village initiative of your choice to become a member and even buy/lease a house. Shares are always offered at a discount to unit holders.
FUNDING VILLAGE PROJECTS
But there is more: we offer village initiatives the chance to get interest-free funding as well as access to a wide network of potentially interested villagers. The income from the sale of units is transferred to participating villages for them to invest in developing their initiative.  Villages get the funding interest-free, and in return offer a discount on accommodation.
The idea is at the concept stage just now, we are looking for villages and individuals to prepare a pilot scheme. Contact us if your are interested.