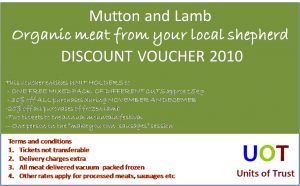 As populations grow, and less and less oil is being found, the fossil fuel-dependent global supply chains and the banking system that supports them are becoming less functional. Relocalizing production and sales of daily needs reduces fuel dependence, waste, and increases local employment and community resilience. However, today's financial system is more geared to large national and global corporations.
The lack of sustainability in the system is worrying. A sustainable solution would mean that sale and provision of basic goods and services would keep ecosystem and mineral resources intact, would reduce reliance on fossil fuel and create an investment that could be enjoyed by coming generations.
New thinking is required to make capital available to smaller, local businesses for this to be realized. One proposal is a savings bank scheme called Units of Trust (UOT). The scheme makes it possible for consumers to invest in local businesses and to receive goods and services at reduced price whilst their money is with the firm.
To create simplicity, transparency and stability, a support and coordination organization called UOTMC or UOT marketing company, could be set up, along with a fund scheme in a local bank. Unitization allows consumers to invest in a wide range of companies and spread their risk.
Other benefits include: providing local business with affordable capital and long term customers at the same time. Consumers get local produce and a long term secure supply of basic needs whilst investing in a green supply system that will withstand fossil energy shortfalls.
See our video on YouTube, the NEWSLETTER FROM THE FUTURE or read the white paper.