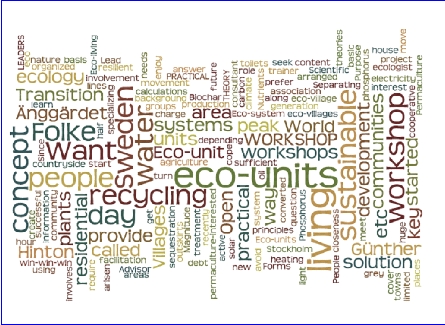 People seek a sense of connectedness to nature. Many want to live in a way that is light on the earth and does not require huge amounts of debt and energy to function.  They want to invest in a way of life that they can believe in, economically and morally.  Since the 1980's, systems ecologist Folke Günther has been developing a sustainable living concept called eco-units to do just this.
Eco-units answer the question of how we can create sustainable resilient communities that provide a standard of living whilst ensuring future generation can enjoy the same.
This workshop aims to provide you with sufficient insight into eco-units to enable you to convene a group and start your own project.
DATES: Thursday, September 27, 2012 to Sunday  September 30, 2012 at 2pm
LOCATION: Conference Center, Södra Rörum, HÖÖR,  SWEDEN.