I promised in my last blog in the series capitalism: a hobby to delve into the status of Sweden using my ideas of capital value. Before I do that, however I need to give readers an idea of the over-riding plans that Sweden has for energy intensity reduction. We saw from previous analyses that oil is a finite natural capital. As this is used, huge sums of natural capital are converted to financial capital and some are converted to man-made capital like buildings.
As you will see from my notes below, the plans seem rather sketchy. I have done my best to summarize what I know from reading official documents.The graph below shows my interpretation of possibilities for fossil energy descent. The Swedish Government has announced that Sweden will be fossil-free by 2050 and that 2030 the dependency on fossil fuel in the transport system will be broken.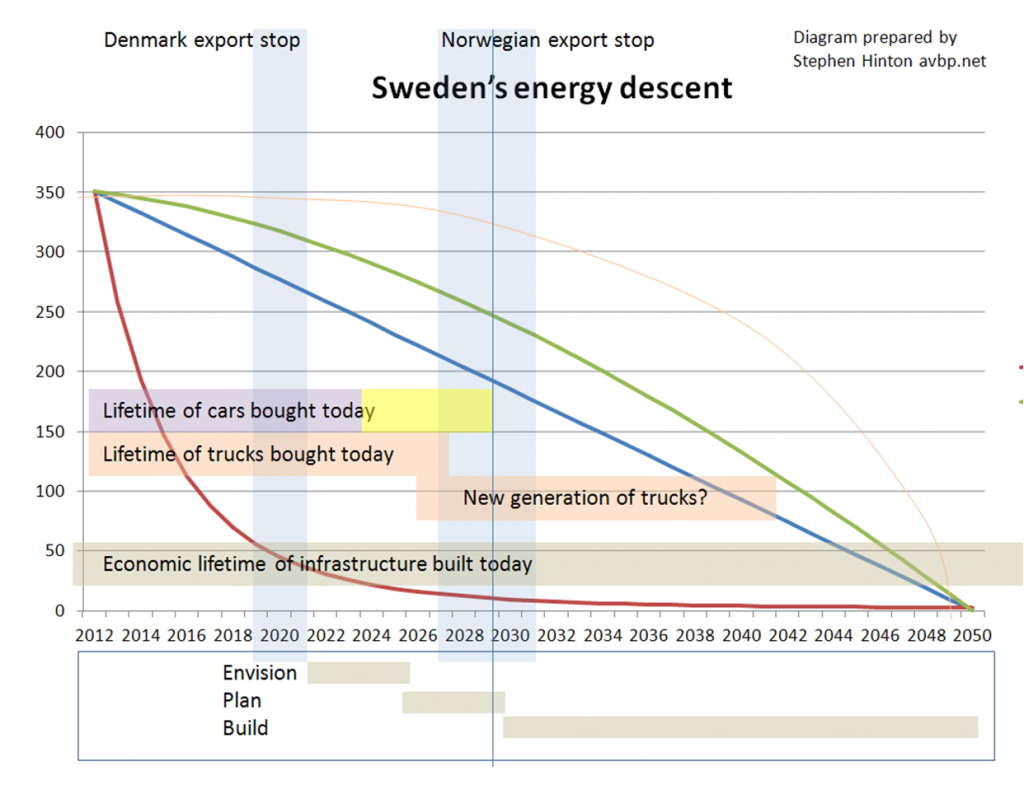 The graph above shows the present oil import to Sweden to be about 350 barrels/day, reducing to zero by the year 2050 (horizontal axis).
COLORED LINES SHOW PHASE OUT SCENARIOS
The colored lines each represent a different scenario for phasing out oil. The red line is a fast phase out starting today, with an immediate transition to alternatives.The orange represents the opposite, a slow phase out at first, accelerating as the deadline draws near.The blue is a straight-line phase out and the green somewhere between the orange and the blue.
TWO OF THREE MAJOR SUPPLIERS WILL STOP IN THIS PERIOD To include external events I included two of three of Sweden's major suppliers of oil: Denmark and Norway. According to several sources (see references below), these countries will not be able to supply their own needs around this time and soon after that their own production will cease.
FROM NOW ON, NEW INVESTMENTS IN TRANSPORT VEHICLES MAY BRING POOR RETURNS
Another interesting aspect of this analysis is financial capital investments in man-made capital. Cars and trucks represent huge investments, and the ones made today should be expected (unless an undue stress is placed on the economy) to be functional for 10 -20 years.This will be quite a challenge: as Denmark as a major suppliers stops supplying during the life-time of vehicles already built, Sweden will have to find alternative supplies of fuel at prices that allow use of this existing infrastructure.In economic terms, the red curve scenario seems unlikely. To make that work, the government would need to stimulate already today the conversion of vehicles to alternative fuels, as a rapid transition will mean rapid increase in alternatives.
BEFORE VEHICLES ARE READY FOR SCRAP THIRD LESS FUEL AVAILABLE
Indeed, following the linear descent (blue line), over a third of all fuel will be unavailable at the end of the lifetime of existing vehicles. Perhaps authorities have considered the notion of using vehicles 30% less than today. This would drastically affect the very life-style of Swedes and probably harm economic growth.
POSSIBILITIES TO BUILD NEW INFRASTRUCTURE
Literature available puts new heavy technology changes at about 20 years to become widely available. If Sweden is to be fossil free by 2050, then at the latest a program of rebuild and retrofit needs to start in 2030. Big projects need big decisions, and these take time, with all the permits, political backing, financing, etc needed. It may well take 5 years to get started, so the planning needs to start at latest 2025. Before that, there should be, say, five years of envisioning and research. That brings us to 2020, so we are eight years away from launching the most radical technical transformation of the industrial age.
POLLUTING TECHNOLOGY IS SO LAST CENTURY Further conclusions can be drawn when you consider the life-time of a building where 90% of costs are from use, not construction. Investments being planned today will be operating in a completely different energy climate and a different regulatory climate. Those who plan for investments to look like those of yesterday are surely planning to lose money.The same should go for public sector functions like schooling, health care, care of the elderly, etc, Today,  these operations are fuel dependent, thanks partly to centralization and increases in efficiency.
FOSSIL FUEL FREE TRANSPORT BY 2030?
What is most surprising from the simple exercise of counting backwards, is the proclamation of a fossil free 2030. Considering that a new vehicle program usually takes many years to commercialize, and considering that building out filling stations takes ten years, and that vehicles last 20 years, it is high time that Sweden went beyond vision and started the assembly lines rolling. According to the analysis from my graph, and if we say that a vehicle fleet not dependant on fossil fuels is where 50 % of vehicles have alternative fuel, and it takes 20 years to replace all vehicles, then it takes 10 years to replace 50%. (illustrated in yellow on my diagram)
So the new range of vehicles need to be rolled out commercially 2020. To do this they need 10 years of research and development, meaning that manufacturers are now, 2012, two years at least into the new generation of fossil-free vehicles.
I hope they are. They say they are, but the massive investment needed seems to be absent.
FOSSIL DEPENDENCY IS PLAIN TO SEE FOR ANYONE WHO LOOKS
The diagram below comes from the Swedish County of Jönköping, in their energy strategy document. On the left are inputs and on the right, uses.
Although it's in Swedish I think international readers will get the idea. The black "blob" at the bottom shows the county reliance on fossil-fuel for transports, only a small percentage being funneled off to industry, agriculture, household heating etc.
Perhaps another view of how Sweden should invest financial capital and develop infrastructure is needed, but that is for a later blog.
Norway's production fall
http://www.theoildrum.com/node/9166
Sweden's policy
http://www.regeringen.se/sb/d/15365
Consumption
http://www.indexmundi.com/g/g.aspx?v=88&v=91&c=da&l=en
Swedish 2030 policy
http://www.dn.se/debatt/vi-behover-en-strategi-for-miljobilar-aven-efter-2013
The Hirsch report
http://www.netl.doe.gov/publications/others/pdf/Oil_Peaking_NETL.pdf
Swedish University studies of Peal Oil in the book "Peeking at Peak Oil"
http://www.springer.com/environment/environmental+management/book/978-1-4614-3423-