Posted by steve on April 13, 2013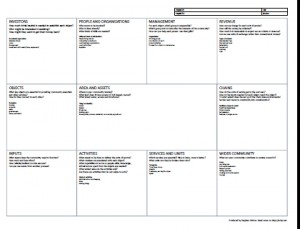 The community finance canvas consists of a set of community building blocks, each with a set of questions. The purpose of the canvas is to help you design your sustainable community and get to a stage where you can start to produce a financial plan. The canvas can be printed out or copied onto large paper and hung on the wall or spread out over a large table. When going through the canvas we let our imaginations produce a picture of how the community could be when it is fully developed.
To view the full canvas download it here.