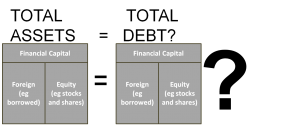 Last time I went through the different types of capital and the two types of financial capital: own capital, called equity, for example the money put in by owners as shares, and foreign capital, money  the organization has borrowed.
Before I get any further on my understanding of Capitalism, I need to take one more step with understanding financial capital. Bear with me as I find this bit rather spooky.When companies (or even countries as we saw in the last post) draw up a balance sheet they put the money they have borrowed in as a liability, and accountants put a minus sign in front of that number.When a lender lends the money to, say, a company, the accountant put a plus sign in front of that figure to show that it represents and asset. For a bank to lend the money it does not need to actually have the money in its own account. It merely has to have a licence to lend money.
Read More »How can the world owe more than the total value of its assets?