Posted by steve on January 20, 2011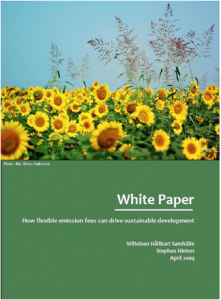 This updated White Paper
How Flexible Emissions Fees Can Drive Transition to Fossil-free and Sustainable Living
explains why we need to discourage supply chains from emitting waste into the natural environment. It also explains that what we call waste could be a resource in another supply chain if the economic context were to encourage recycling. The mechanism present, the Höglunds Mechanism, is one tool to do just that: to focus market forces to create an economic system that delivers real value: essential services in a sustainable way.
The paper describes the planetary boundaries approach put forward by the Stockholm Resilience Centre and gives several worked examples as to how the mechanism could be applied to two of the four top priorities: carbon dioxide and phosphorus.
Read the paper here. whitepaperfe_v2tb
Leave a comment, and if you'd like your own picture to show up next to your comments, go get a gravatar!